Peace Products

Still time to give some Peace!
Click on the links below to browse through products. Quantities are limited so shop now for the best selection!
The following products are available:
A small, easily portable pillow which can be taken anywhere. The outer surface is made of vinyl material, allowing it to be more easily cleaned.  A short meditation can be played with the simple push of a button. For many people listening to a meditation can help them to relax, decrease stress and anxiety, and even decrease pain. It may help lower blood pressure, improve your heart rate and breathing, and potentially improve any condition that is affected by stress. The cotton material inside the pillow is energized with peace, through intention, to aid in peacefulness, calmness, and a sense of balance. Peace Meditation Pillows are not meant to replace any traditional medical treatments but can be a positive complementary addition.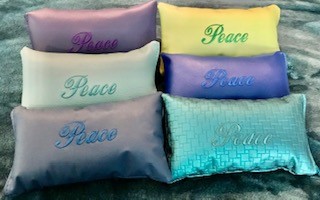 Made with 100% cotton in beautiful designs for adults and children. Each piece is unique. Embroidered with "Peace". Each pillowcase is made to fit the size of the Peace Meditation Pillow and has an inner flap which securely keeps the pillow from falling out.
Comes in many beautiful, assorted designs for adults and children. Each piece is unique. Embroidered with "Peace". These small totes are cute and functional. They are suitable to hold an assortment of small treasures. They can be used to transfer essentials from one purse to another; as an attractive way to carry facemasks, paperback books, small toys, or other items; or can be used to hold a special gift.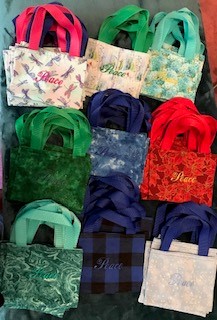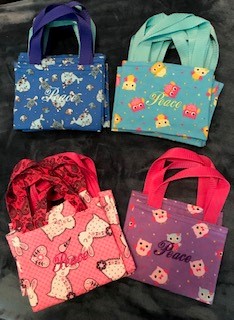 Peace Face Masks Sold out and are no longer available.